This checkerboard chocolate cake is designed to show off your skills. Watch your guests get wow-ed as you serve up a slice.
Cook

time
45 min
(plus standing time)
INGREDIENTS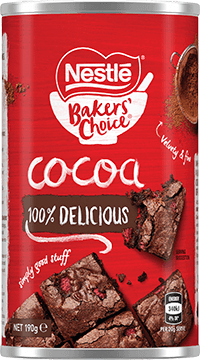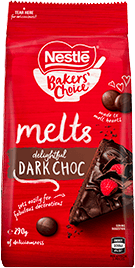 METHOD
Preheat oven to 160°C/140°C fan forced. Grease and line four 18cm round cake pans with baking paper.

Combine flours, sugar, butter, milk and eggs in a large mixing bowl. Using an electric beater; beat on low speed for 2 minutes or until just combined. Increase speed to high and beat for 3 minutes or until the mixture is thick and pale. Evenly divide cake mixture into two bowls; add vanilla bean paste to one bowl and mix well. Add NESTLÉ BAKERS' CHOICE 100% Cocoa to remaining bowl; mix well. Divide vanilla mixture among two prepared pans, and divide chocolate mixture among remaining two prepared pans; bake 45 minutes or until a

skewer inserted

into the centre comes out clean. Cool on a wire rack. Using a serrated knife, level cake tops.

Meanwhile, to make Chocolate Ganache, combine NESTLÉ BAKERS' CHOICE Dark Melts and cream in large microwave-safe bowl; microwave, uncovered, on MEDIUM (50%) for 1 minute; stir; repeat in 30 second intervals until melted. Set aside until cool and thick, stirring occasionally.

To assemble, print and cut out the template that you can download

here

; use the template to cut the cake into rounds.

Coat the cut inner sides of a chocolate outer ring with a thin layer chocolate ganache and place a vanilla middle ring inside. Coat the cut inner sides of the vanilla ring with ganache and fill circle with a chocolate center. Repeat this sequence again.

Coat the cut inner sides of a vanilla outer ring with chocolate ganache and place a chocolate middle ring inside. Coat the cut inner sides of the chocolate ring with ganache and fill circle with a vanilla center. Repeat this sequence again. You should now have four cakes each alternating in chocolate and vanilla rings.

Sandwich the cake layers together with a little chocolate ganache, alternating layers. Spread remaining chocolate ganache over top and sides of cake.
TIP:
When serving: Cut cake in half crossways across the centre to make two cakes, then slice each cake into 12 pieces.
Rate this recipe out of 5:
Reviews
---
Recipes.com.au is your one stop destination for no-fuss, super-delicious recipes that are as much fun to prepare as they are to devour.
From weeknight dinners, to treats for special occasions, we've got you covered. All recipes are designed to be simple and easy to follow, so you can spend more time enjoying good company and good food.
Each recipe is tried-and-tested by a dedicated our cooking team to ensure you can recreate the same great results at home. Whether you're picking up a frying pan for the first time, or a seasoned cook, you are sure to find something you'll love in our versatile collection of recipes.
It's time to get cooking.