Cook

time
0 min
plus freezing and refrigeration time
INGREDIENTS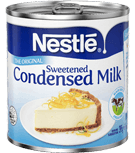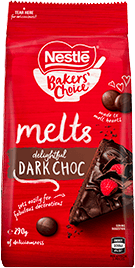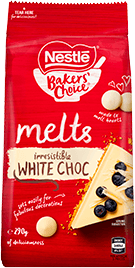 METHOD
Grease ten ¾ cup capacity (190mL) timbale moulds. Place on a baking tray. Set aside 10 ALLEN'S JAFFAS for decoration. Place remaining ALLEN'S JAFFAS in a snap lock bag and using a rolling pin, crush until coarsely broken.

Using an electric mixer, beat cream and NESTLÉ Sweetened Condensed Milk until thickened; beat in melted NESTLÉ BAKERS' CHOICE Dark Choc Melts until just combined. Fold through crushed ALLENS JAFFAS and orange zest.

Spoon mixture among moulds; do not overfill; tap down moulds lightly on workbench to remove air pockets. Cover with plastic wrap and place in the freezer for 6 hours to set.

Invert the puddings onto serving plates (Use a warm cloth to rub over mould if they need a little help to become loose). Spoon NESTLÉ BAKERS' CHOICE White Choc Melts over each puddling and let choc drizzle down sides slightly; decorate with reserved ALLEN'S JAFFS and ALLEN'S SNAKES ALIVE.

Makes 10.
Rate this recipe out of 5:
Reviews
---
Recipes.com.au is your one stop destination for no-fuss, super-delicious recipes that are as much fun to prepare as they are to devour.
From weeknight dinners, to treats for special occasions, we've got you covered. All recipes are designed to be simple and easy to follow, so you can spend more time enjoying good company and good food.
Each recipe is tried-and-tested by a dedicated our cooking team to ensure you can recreate the same great results at home. Whether you're picking up a frying pan for the first time, or a seasoned cook, you are sure to find something you'll love in our versatile collection of recipes.
It's time to get cooking.