Cook

time
0 min
plus freezing and refrigeration time
INGREDIENTS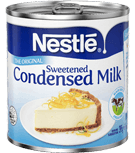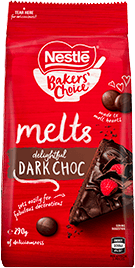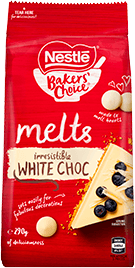 METHOD
Grease ten ¾ cup capacity (190mL) timbale moulds. Place on a baking tray. Set aside 10 ALLEN'S JAFFAS for decoration. Place remaining ALLEN'S JAFFAS in a snap lock bag and using a rolling pin, crush until coarsely broken.

Using an electric mixer, beat cream and NESTLÉ Sweetened Condensed Milk until thickened; beat in melted NESTLÉ BAKERS' CHOICE Dark Choc Melts until just combined. Fold through crushed ALLENS JAFFAS and orange zest.

Spoon mixture among moulds; do not overfill; tap down moulds lightly on workbench to remove air pockets. Cover with plastic wrap and place in the freezer for 6 hours to set.

Invert the puddings onto serving plates (Use a warm cloth to rub over mould if they need a little help to become loose). Spoon NESTLÉ BAKERS' CHOICE White Choc Melts over each puddling and let choc drizzle down sides slightly; decorate with reserved ALLEN'S JAFFS and ALLEN'S SNAKES ALIVE.

Makes 10.
Rate this recipe out of 5: