Easy chocolate caramel slice combines heavenly NESTLÉ BAKERS' CHOICE Melts with the delicious gooeyness of NESTLÉ Sweetened Condensed Milk. This is the mother of all best slice recipes.
Cook

time
40 min
(plus cooling and standing time)
INGREDIENTS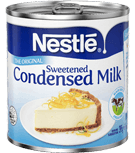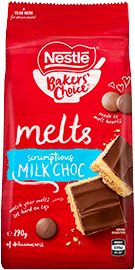 METHOD
Preheat oven 180°C/160°C fan-forced. Lightly grease an 18 x 28cm slice pan. Line base and sides with baking paper for the chocolate caramel slices.

In a medium bowl, combine flour, sugar and coconut. Add melted butter, mix well. Press mixture firmly into prepared pan. Bake for 15-20 minutes until lightly browned. Cool.

Combine extra butter, NESTLÉ Sweetened Condensed Milk and syrup in a medium saucepan. Stir over low heat until smooth. Pour over base. Bake for 20-25 minutes until golden. Cool.

You're almost done with one of the best slice recipes on the website. Combine NESTLÉ BAKERS CHOICE Milk MELTS and oil, stir until smooth, and pour evenly over every chocolate caramel slice.
TIP:
To mix it up you can try adding 1 tsp of sea salt flakes into the caramel mixture, before pouring over the base and baking.
Rate this recipe out of 5: