Add some homemade cuteness to your Easter Hunt this year with these adorable pastel chocolate bunny cookies!
Cook

time
12 min
including chilling time
Nutritional information per serving
INGREDIENTS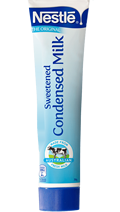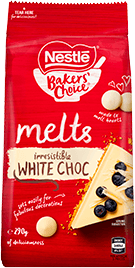 METHOD
Preheat oven to 170°/150°C fan-forced. Grease and line 2 oven trays with baking paper.

Using an electric mixer, beat butter and sugar until light and creamy; add NESTLÉ Sweetened Condensed Milk Tube and vanilla extract, beat until combined. Stir in flour and baking powder. Roll dough between 2 sheets of baking paper until 5mm thick (work in batches, if required). Refrigerate for 30 minutes.

Using 7cm bunny shaped biscuit cutters, cut shapes from dough; place 3cm apart on oven trays. Bake for 12 minutes, or until golden brown. Cool on trays.

Place NESTLÉ BAKER'S CHOICE White MELTS and cream in a microwave safe bowl; microwave uncovered in medium (50%) for 1 minute, stir. Repeat process in 30 second intervals, stirring after each time, until Melts are about almost melted. The rest will melt as you stir it, due to residual heat. Cool until ganache has thickened.

Carefully sandwich choc ganache between two bunny cookies. Repeat with remaining ganache and cookies.

Divide extra melted NESTLÉ BAKERS' CHOICE White MELTS between two bowls; in each bowl evenly divide oil and stir until combined. In one bowl tint with pink food colouring, and repeat with the blue food colouring in remaining bowl.

Carefully and quickly dip biscuit sandwiches in each colour and place on lined trays to dry. Once dried, serve.
Rate this recipe out of 5: