Slime Filled Chocolate Cupcakes are a Halloween hit and a taste explosion!
INGREDIENTS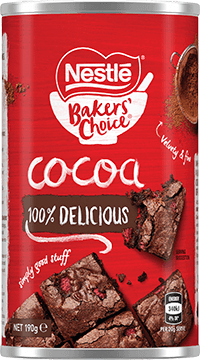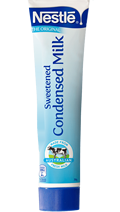 METHOD
Preheat oven to 180°C/160°C fan-forced. Line 16 holes from two 12-hole (1/3 cup/80mL) muffin pans with paper cases. Place cocoa and brown sugar into a medium bowl, pour in boiling water and stir until combined, set aside.

Cream butter and caster sugar, beating well until light and fluffy. Add vanilla into the creamed butter sugar mixture; add eggs, flour, baking powder and bi carbonate of soda. Fold in reserved cocoa mixture.

Divide chocolate mixture evenly into the prepared muffin pans; bake 20- 25 minutes or until cooked through; cool.

Just before serving, take a cooled cupcake and, using a small sharp knife, cut a cone (2cm across by 2cm deep) out of the top. Trim off the pointy end of the cone and discard, leaving a flat circle of cake. Repeat this process for all the cupcakes.

In a small bowl squeeze NESTLÉ Sweetened Condensed Milk, set aside 2 tbsp and reserve until later. Combine NESTLÉ Sweetened Condensed Milk and 1 tsp green food colouring. Spoon 1 tsp into each cupcake cavity, filling it almost to the top. Top off with reserved flat circle of cake.

In the bowl of an electric mixer, beat butter until light and creamy, add in reserved 2 tbsp NESTLÉ Sweetened Condensed Milk until combined. Gradually add in icing sugar, until completely incorporated, turn mixer up to high speed until frosting is light and fluffy. Tint buttercream with green food colouring.

Place 1cm round nozzles into a piping bag; carefully transfer buttercream mixture into piping bag. Pipe round dots of frosting all over each cupcake top. Serve immediately.
Rate this recipe out of 5:
Reviews
---
Recipes.com.au is your one stop destination for no-fuss, super-delicious recipes that are as much fun to prepare as they are to devour.
From weeknight dinners, to treats for special occasions, we've got you covered. All recipes are designed to be simple and easy to follow, so you can spend more time enjoying good company and good food.
Each recipe is tried-and-tested by a dedicated our cooking team to ensure you can recreate the same great results at home. Whether you're picking up a frying pan for the first time, or a seasoned cook, you are sure to find something you'll love in our versatile collection of recipes.
It's time to get cooking.