A tasty sweet and tart lemon NO BAKE cheesecake with a jolt of zest!
Cook

time
0 min
(plus standing and refrigeration time)
INGREDIENTS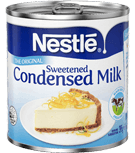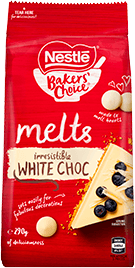 METHOD
Grease base and sides of 22cm spring-form pan.

Using a food processer, process biscuits until fine; with motor running add melted butter; process until just combined. Press the biscuit mixture evenly over the base and sides. To achieve a neat crust, press the crumb mixture firmly with a straight-sided glass against the sides of the pan; refrigerate while preparing the filling.

Combine gelatine and water; stir until the gelatine dissolves; cool 5 minutes.

Beat cream cheese and NESTLÉ Sweetened Condensed Milk in a medium bowl with an electric mixer until smooth. Add cream, gelatine mixture, NESTLÉ BAKERS' CHOICE White Melts, lemon zest and juice, and lemon flavoured spread beat until just combined. Pour mixture into prepared pan. Refrigerate for 3 hours or until set. Top with lemon zest and serve.
Rate this recipe out of 5: