A no-bake recipe for super chocolate fudgy brownies! It doesn't get any easier than this!
Nutritional information per serving
Replace Sweetened Condensed Milk with Skim Sweetened Condensed Milk to reduce fat by 40%
Nutritional information per 100g
INGREDIENTS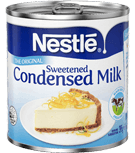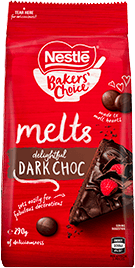 METHOD
To begin the no-bake recipe, grease and line base and sides of a 19cm square pan with baking paper.

In a medium saucepan combine NESTLÉ Sweetened Condensed Milk and NESTLÉ BAKERS' CHOICE Dark Melts and stir constantly over medium heat until mixture is smooth and thickened slightly. Removed from heat and stir in vanilla.

Meanwhile place biscuits in a food processor and process until fine crumbs form. Add to saucepan and stir until combined. Press into prepared pan; if desired top with pistachios. Refrigerate 30 minutes or until firm. Cut the fudgy brownies into 18 squares and serve, completing this no-bake recipe.
Rate this recipe out of 5:
Reviews
---
Recipes.com.au is your one stop destination for no-fuss, super-delicious recipes that are as much fun to prepare as they are to devour.
From weeknight dinners, to treats for special occasions, we've got you covered. All recipes are designed to be simple and easy to follow, so you can spend more time enjoying good company and good food.
Each recipe is tried-and-tested by a dedicated our cooking team to ensure you can recreate the same great results at home. Whether you're picking up a frying pan for the first time, or a seasoned cook, you are sure to find something you'll love in our versatile collection of recipes.
It's time to get cooking.