A moist, dense carrot cake flavoured with cinnamon and walnuts and finished with a rich, creamy topping - so good!
Nutritional information per serving
INGREDIENTS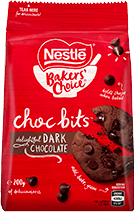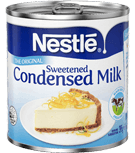 METHOD
Preheat oven to 180°C/160ºC fan forced. Grease and line base and sides of a deep 25cm round cake pan.

In a large mixing bowl; combine flour, sugar, bicarbonate of soda, cinnamon, grated carrot, zest, walnuts and NESTLÉ BAKERS' CHOICE Dark CHOC BITS in a large bowl; make a well in the centre of flour mixture.

In a large jug, combine eggs, vanilla essence and oil. Add egg mixture to flour mixture and stir until just combined. Pour mixture into prepared pan. Bake 1 hour or until an inserted skewer comes out clean. Stand in pan for 10 minutes. Turn out onto a wire rack to cool.

To make cream cheese icing: Using an electric mixer, beat cream cheese and NESTLÉ Sweetened Condensed Milk until smooth and creamy. Spread over cooled cake.
Rate this recipe out of 5: