Who can resist the irresistible combination of white choc and raspberries? Create these MILKYBAR and Raspberry Ripple Blondies for a twist on a classic blondie.
INGREDIENTS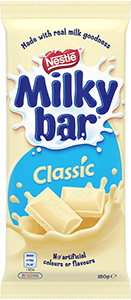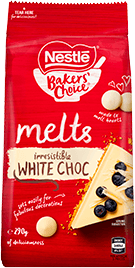 METHOD
Preheat oven to 180C/160C fan forced. Grease and line the base and sides of a 20cm square cake pan.

Place the butter, MILKYBAR and sugar in a large saucepan. Stir over low heat until melted (mixture may look split). Set aside for 10 minutes to cool.

Place the thawed raspberries in a bowl. Use the back of a fork to lightly crush.

Stir the eggs, then flours and then white chocolate bits into the MILKYBAR mixture. Spoon half of the mixture into the prepared pan. Dollop over the raspberry. Top with remaining mixture. Use a skewer to swirl through the raspberry.

Bake for 25 to 30 minutes or until the blondie is firm to touch. Cool in pan. Remove from the pan and sprinkle with fresh raspberries. Cut into small squares to serve.
Rate this recipe out of 5: