Spooky yet delicious Frankenstein Marshmallows are a perfect addition to any trick or treat bags this Halloween.
Nutritional information per serving
INGREDIENTS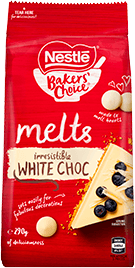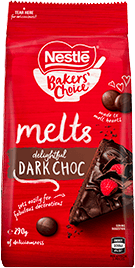 METHOD
Place NESTLÉ BAKERS' CHOICE White Melts in microwave-safe bowl; microwave, uncovered, on MEDIUM (50%) for 1 minute; stir; repeat in 30 second intervals until melted. Add oil and stir to combine; tint with food colouring.

Dip the end of one lollypop stick into melted NESTLÉ BAKERS' CHOICE White Melts, then insert into the bottom of a marshmallow. Insert the pop in the polystyrene to stand upright. Repeat with remaining marshmallows.

Dip one marshmallow into NESTLÉ BAKERS' CHOICE White Melts, swirl to coat, gently drain off any excess; working quickly return pops to polystyrene to stand upright. Repeat with remaining pops. Top with a whole NESTLÉ BAKERS' CHOICE Dark Melt, and once chocolate has set, using the black gel pen draw scars, eyes, mouth and ears.
TIP:
Have a large piece of polystyrene available so you can stand your Frankenstein pops upright while decorating. Alternately, cake pops stands are available from specialty kitchen shops.
Rate this recipe out of 5:
Reviews
---
Recipes.com.au is your one stop destination for no-fuss, super-delicious recipes that are as much fun to prepare as they are to devour.
From weeknight dinners, to treats for special occasions, we've got you covered. All recipes are designed to be simple and easy to follow, so you can spend more time enjoying good company and good food.
Each recipe is tried-and-tested by a dedicated our cooking team to ensure you can recreate the same great results at home. Whether you're picking up a frying pan for the first time, or a seasoned cook, you are sure to find something you'll love in our versatile collection of recipes.
It's time to get cooking.