INGREDIENTS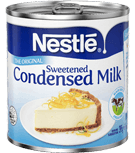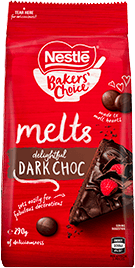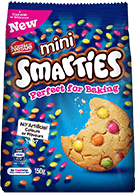 METHOD
Preheat oven to 170°C/150°C fan forced. Grease and lightly flour medium sized cupcake tin.

Prepare brownie mix as per instructions on pack. Evenly dispense brownie mix across cupcake trays to make approx.20 small brownies. Bake 10-15 minutes or until an inserted skewer is clean upon removal. Cool in pan for 10 minutes, then remove from moulds and allow to cool on a wire rack.

Place half the NESTLÉ BAKERS' CHOICE Dark MELTS in a microwave safe bowl with half a can of NESTLÉ Sweetened Condensed Milk; microwave uncovered for 1 minute; stir. Repeat process in 30 second intervals until melted. Cover tops of brownies in this ganache mixture and place on NESTLÉ Mini SMARTIES. Set aside to allow chocolate to become firm.

Melt remaining NESTLÉ BAKERS' CHOICE Dark MELTS as per pack and into a then use to coat pretzels. Spread pretzels over a tray; refrigerate 5-10 minutes or until chocolate is firm.

Use a toothpick to poke 8 holes in the brownie muffins, then poke the pretzels into the holes to make spider legs. Use leftover melted chocolate to paint 'pupils' onto the NESTLÉ Mini SMARTIES.
Rate this recipe out of 5:
Reviews
---
Recipes.com.au is your one stop destination for no-fuss, super-delicious recipes that are as much fun to prepare as they are to devour.
From weeknight dinners, to treats for special occasions, we've got you covered. All recipes are designed to be simple and easy to follow, so you can spend more time enjoying good company and good food.
Each recipe is tried-and-tested by a dedicated our cooking team to ensure you can recreate the same great results at home. Whether you're picking up a frying pan for the first time, or a seasoned cook, you are sure to find something you'll love in our versatile collection of recipes.
It's time to get cooking.