Get the family together for this yummy cheesecake version of a childhood favourite – cookies and cream! Bake for Easter and other special occasions.
Cook

time
0 min
(plus refrigeration time)
INGREDIENTS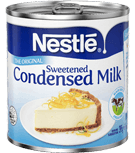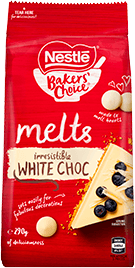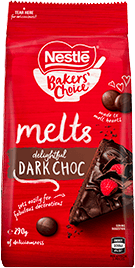 METHOD
Grease base and sides of 22cm spring-form pan.

Using a food processer, process biscuits until fine; with motor running add melted butter; process until just combined. Press the biscuit mixture evenly over the base and sides. To achieve a neat crust, press the crumb mixture firmly with a straight-sided glass against the sides of the pan; refrigerate while preparing the filling.

Combine gelatine and water; stir until the gelatine dissolves; cool 5 minutes.

Beat cream cheese and NESTLÉ Sweetened Condensed Milk in a medium bowl with an electric mixer until smooth. Add cream, gelatine mixture and NESTLÉ BAKERS' CHOICE White Melts, beat until just combined; fold in biscuits. Pour into prepared pan.

Spoon NESTLÉ BAKERS' CHOICE Dark Melts into a piping bag or freezer bag with the corner snipped. Decorate cheesecake as pictured. Refrigerate for 3 hours or until set.
Rate this recipe out of 5: