Good things come in small packages and these delectable chocolate mini cupcakes will satisfy any sweet craving. Perfect for Birthday parties, afternoon tea or just because you can.
INGREDIENTS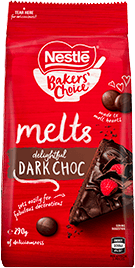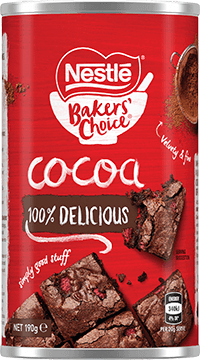 METHOD
Preheat oven to 180°C/160°C fan forced. Line two, 12-hole (1 tbsp/20mL) mini muffin pans with paper cases.

Combine NESTLÉ BAKERS' CHOICE Dark Melts and water in a small saucepan over low heat. Cook, stirring for 5 minutes or until melted and mixture is smooth. Remove from heat and set aside.

Using an electric mixer, beat butter and brown sugar until pale and creamy. Add eggs, one at a time, beating well after each addition. Add flours and NESTLÉ BAKERS' CHOICE 100% Cocoa, beat until just combined. Add melted chocolate mixture, stir to combine; fold in NESTLÉ BAKERS' CHOICE Milk CHOC BITS.

Spoon mixture evenly among prepared muffin pans. Bake for 15 minutes or until cooked through. Transfer to a wire rack to cool. Make Butter Cream Icing.

BUTTER CREAM ICING: Using an electric mixer, beat butter in a bowl until light and fluffy. Gradually add icing sugar, beating constantly until combined.

Using a piping bag with a round nozzle, pipe icing over cupcakes.
Rate this recipe out of 5: