This cake is sure to be a smash at your next party.
INGREDIENTS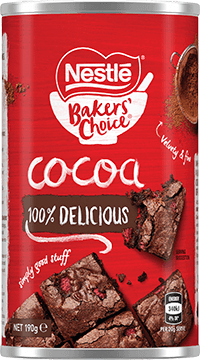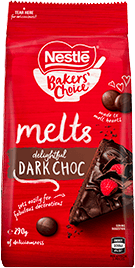 METHOD
Preheat oven to 180C/160C fan forced. Grease a 20cm fluted ring cake pan.

Using an electric mixer, beat butter, vanilla and sugar until light and creamy. Add eggs, one at a time, beating well after each addition. Stir in sifted flours and cocoa. Add milk and milk choc bits, mixing until well combined. Spoon into prepared pan and smooth top. Bake for 40 minutes or until a

skewer inserted

into the centre comes out clean. Cool for 10 minutes before turning out onto a wire rack to cool completely.

Meanwhile, make ganache: combine dark chocolate melts and cream in a heatproof bowl. Microwave, uncovered, on MEDIUM (50%) for 1 minute. Stir. Repeat process in 30 second intervals until melted. Refrigerate, stirring occasionally, for about 20 to 30 minutes or until thickened. Set aside until required.

Chill a dome-shaped metal bowl (large enough to fit over cake) for 10 minutes. Lightly spray the inside of the bowl with oil. Using a pastry brush, brush the bowl thickly with some of the dark chocolate melts. Refrigerate until set. Repeat process using remaining melted dark chocolate melts and refrigerate until set.

Carefully loosen the edge of the shell with a pointy, sharp tip knife and gently place onto a clean work surface. Place extra 75g dark choc melts in a small snap-lock bag and snip a small hole in the corner. Pipe a small amount onto each FRECKLE and SMARTIES and arrange on chocolate shell.

Place cake onto a serving plate. Using a small spatula, cover cake with ganache,

Making sure you don't ice the inside hollow of the cake. Fill the hollow with ALLEN'S Party Mix Lollies and carefully place chocolate shell over cake. Serve.
Rate this recipe out of 5:
Reviews
---
Recipes.com.au is your one stop destination for no-fuss, super-delicious recipes that are as much fun to prepare as they are to devour.
From weeknight dinners, to treats for special occasions, we've got you covered. All recipes are designed to be simple and easy to follow, so you can spend more time enjoying good company and good food.
Each recipe is tried-and-tested by a dedicated our cooking team to ensure you can recreate the same great results at home. Whether you're picking up a frying pan for the first time, or a seasoned cook, you are sure to find something you'll love in our versatile collection of recipes.
It's time to get cooking.