NESTLÉ Caramel Dulce de Leche Squeezy 450g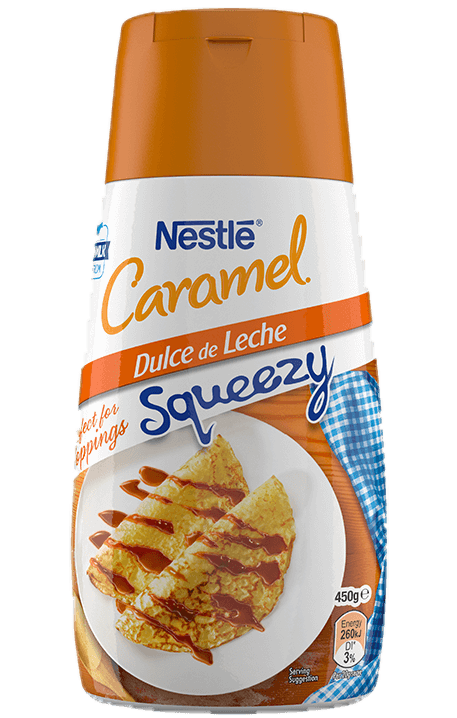 NESTLÉ Caramel Dulce de Leche Squeezy 450g
Made from fresh milk, Nestle Dulce De Leche is a creamy caramel made by caramelising sweetened condensed milk. Perfect for topping, drizzling and pouring over your favourite sweet creations such as pancakes and crepes, filled into pastries, and other sweet treats.
Buy online
Add to shopping list
Nutritional information per serving
Servings Per Pack: 22
Serving Size: 20g
Avg Qty
per Serving
%DI*
per Serving
Avg Qty
per 100g
Energy
260 kJ
3%
1320 kJ
Protein
1.5 g
3%
7.3 g
Fat-total
1.6 g
2%
7.8 g
- Saturated
0.9 g
4%
4.5 g
Carbohydrate
10.6 g
3%
53 g
- Sugars
10.6 g
12%
53 g
Sodium
10 mg
1%
100 mg
*Percentage Daily Intakes are based on an average adult diet of 8700kJ. Your daily intakes may be higher or lower depending on your energy needs.
Ingredients
Milk, Sugar, Water, Lactose (from Milk). CONTAINS MILK