Nutritional information per serving
INGREDIENTS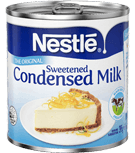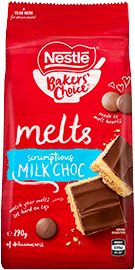 METHOD
grease and line 21cm square cake pan. combine gelatine boiling water; stir rapidly until gelatine dissolves; cool for 5 minutes.

beat the cream cheese, and NESTLÉ Sweetened Condensed Milk in a medium bowl with an electric mixer, add thickened cream and beat until smooth; add gelatine mixture and plaistowe premium white choc.

pour mixture into prepared pan; smooth top. cover cheesecake; refrigerate for about 3 hours or until set. once set using bunny-shaped cutters, carefully cut bunny shapes from cheesecake. (tip: dip your cutter in icing sugar mixture to make it easier to remove shapes)

meanwhile, place an 80cm sheet of baking paper on clean dry kitchen bench; spread NESTLÉ BAKERS' CHOICE Milk Melts into a 60cm x 30cm rectangle baking paper; stand at room temperature about five minutes or until almost set. using bunny-shaped cutters, cut bunny shapes from chocolate; refrigerate.

sandwich cheesecake bunnies together with chocolate bunnies.
Rate this recipe out of 5: