Cool down with the flavour combination you didn't know you needed. MILKYBAR and mango come together in this simple recipe to create a refreshing and summery ice-cream treat.
INGREDIENTS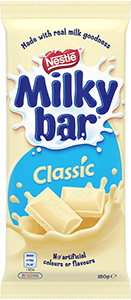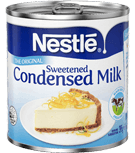 METHOD
Lightly grease a 7.5cm-deep, 11 x 21cm (base measurement) loaf pan and line with plastic wrap.

Place 2 large sheets of baking paper on the benchtop. Use a pencil to trace around the base of the loaf pan on each sheet so you have 5 stencils. Thinly spread chocolate inside each rectangle and set aside until hard (you may need to set in the fridge or freezer).

Use electric beaters to beat the NESTLÉ Sweetened Condensed Milk, cream and 1 tablespoon of lime juice for 4 minutes or until very thick. Set aside.

Peel and chop 2 of the mangos. Place in the bowl of a food processor. Add the remaining 1 tablespoon of lime juice. Process until smooth.

Pour 1/4 of the condensed milk mixture into the prepared pan. Spoon over 1/4 of the mango mixture and gently spread to cover the cream. Top with one of the MILKYBAR rectangles. Repeat with 3 more layers. Break the remaining chocolate rectangle into shards and store in an airtight container in the fridge.

Process the biscuits and macadamias in a food processor until mixture resembles fine breadcrumbs. Add butter and process until combined. Press gently over the top of the pan. Place in the freezer for 8 hours, or overnight, to freeze.

Remove the ice cream log from the freezer 20 minutes before serving. Peel and slice the remaining mango. Invert the ice cream log onto a chilled serving plate. Remove the plastic wrap. Top the log with the sliced mango, MILKYBAR shards, extra macadamias, lime zest and coconut. Serve.
Rate this recipe out of 5:
Reviews
---
Recipes.com.au is your one stop destination for no-fuss, super-delicious recipes that are as much fun to prepare as they are to devour.
From weeknight dinners, to treats for special occasions, we've got you covered. All recipes are designed to be simple and easy to follow, so you can spend more time enjoying good company and good food.
Each recipe is tried-and-tested by a dedicated our cooking team to ensure you can recreate the same great results at home. Whether you're picking up a frying pan for the first time, or a seasoned cook, you are sure to find something you'll love in our versatile collection of recipes.
It's time to get cooking.