Our White Chocolate Cheesecake is not only a delicious addition to any Christmas dessert menu it is sure to turn heads
Nutritional information per serving
Saturated Fat
19.3 g
---
80 %
INGREDIENTS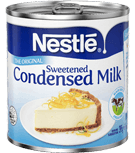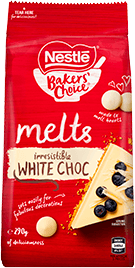 METHOD
Grease base and sides of 22cm spring form pan.

Using a food processor; process biscuits until fine; with motor running add butter; process until just combined. Press the biscuit mixture evenly and firmly over base of the pan; refrigerate while preparing the filling.

Combine gelatine and water; stir until gelatine dissolves; cool 5 minutes.

Beat cream cheese, sugar and NESTLÉ Sweetened Condensed Milk in a medium bowl with an electric mixer until smooth. Add cream, gelatine mixture and NESTLE BAKERS CHOICE White MELTS; beat until just combined; pour into pan over crumb base. Refrigerate for 4 hours or overnight until set. Top with fresh cherries.

Melt NESTLÉ BAKERS' CHOICE White MELTS and spread ¾ of chocolate evenly over a cold surface such as a baking tray, marble board or a laminate bench top. Dip fresh cherries into the remaining melted chocolate.

Leave until almost set at room temperature. Drag a large sharp knife evenly at a 45-90° angle across the surface of chocolate to create curls.
TIP:
TIP: For added 'WOW' factor, decorate with choc dipped cherries & choc curls!
Rate this recipe out of 5: