Yummy Brownies shaped like cute chickens will get the kids excited this Easter!
Cook

time
35 min
(plus refrigeration time)
INGREDIENTS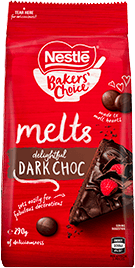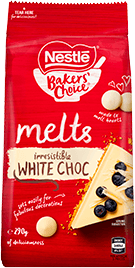 METHOD
Preheat oven to 180°C/160°C fan forced. Grease and line base and sides of a 19cm square cake pan.

Melt butter, NESTLÉ BAKERS' CHOICE Dark Melts and sugar in large saucepan over low heat; stir continuously until melted. Cool 10 minutes.

Stir in eggs and flour until well combined. Spoon mixture into prepared pan and smooth top. Bake for 20 minutes or until firm to touch. Cool in pan.

Combine NESTLÉ BAKERS' CHOICE White Melts and cream in a small microwave safe bowl; stir. Microwave uncovered on MEDIUM (50%) for 1 minute; stir. Repeat process in 30 second intervals until melted and smooth.

Add 1-2 drops of yellow food colouring. Refrigerate 5-10 minutes until a thick spreadable consistency.

Cut brownie into 12 even pieces. Spread tops with icing. Decorate with NESTLÉ SMARTIES, ALLEN'S FRECKLES and gel pen, using picture as a guide to make Easter Brownie Chickens.
Rate this recipe out of 5: