Our super easy fudge KITKAT slice is also super delicious. Combing the classic flavour of NESTLÉ Sweetened Condensed Milk with the iconic KITKAT wafer and milk chocolate chips. What more could you want?
INGREDIENTS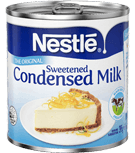 METHOD
To begin making your KITKAT Slice, Grease and line the base and sides of a 20cm square cake pan with baking paper.

Place the NESTLÉ Sweetened Condensed Milk and NESTLÉ BAKERS' CHOICE Milk CHOC BITS in a medium-sized saucepan over low heat. Cook, stirring, for 5 to 7 minutes or until the chocolate chips are melted and combined.

Pour half of the chocolate mixture into the prepared pan. Place a layer of KITKAT on top. Pour over remaining chocolate mixture and smooth the surface. Arrange another layer of KITKAT on top. Cover with plastic wrap and place in the fridge for 2 hours or until set.

Cut this massive KITKAT Slice into small squares to serve.
Rate this recipe out of 5:
Reviews
---
Recipes.com.au is your one stop destination for no-fuss, super-delicious recipes that are as much fun to prepare as they are to devour.
From weeknight dinners, to treats for special occasions, we've got you covered. All recipes are designed to be simple and easy to follow, so you can spend more time enjoying good company and good food.
Each recipe is tried-and-tested by a dedicated our cooking team to ensure you can recreate the same great results at home. Whether you're picking up a frying pan for the first time, or a seasoned cook, you are sure to find something you'll love in our versatile collection of recipes.
It's time to get cooking.