This NO BAKE creamy cheesecake with blueberries is as easy as 1-2-3. Bake for Easter and other special occasions
Cook

time
0 min
(plus refrigeration time)
INGREDIENTS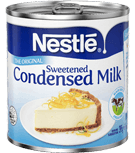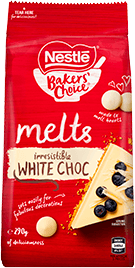 METHOD
Grease base and sides of 22cm spring form pan. Using a food processor; process biscuits until fine; with motor running add butter; process until just combined. Press the biscuit mixture evenly and firmly over base of the pan; refrigerate while preparing the filling.

Combine gelatine and water; stir until gelatine dissolves; cool 5 minutes.

Beat cream cheese and NESTLÉ Sweetened Condensed Milk in a medium bowl with an electric mixer until smooth. Add cream, gelatine mixture and NESTLÉ BAKERS' CHOICE White Melts; beat until just combined; pour into pan over crumb base. Refrigerate for 4 hours or overnight until set. Top with fresh blueberries and white chocolate curls, if desired.
TIP:
For added 'WOW' factor, you can decorate with white choc curls. To make curls: melt a 290g pkt NESTLÉ BAKERS' CHOICE White Melts and spread evenly over a cold surface such as a flat baking tray, marble board or a laminate bench top. Leave until almost set at room temperature. Drag a large sharp knife evenly at a 45-90° angle across the surface of the chocolate to create chocolate Curls.
Rate this recipe out of 5:
Reviews
---
Recipes.com.au is your one stop destination for no-fuss, super-delicious recipes that are as much fun to prepare as they are to devour.
From weeknight dinners, to treats for special occasions, we've got you covered. All recipes are designed to be simple and easy to follow, so you can spend more time enjoying good company and good food.
Each recipe is tried-and-tested by a dedicated our cooking team to ensure you can recreate the same great results at home. Whether you're picking up a frying pan for the first time, or a seasoned cook, you are sure to find something you'll love in our versatile collection of recipes.
It's time to get cooking.