Get in to the Christmas spirit with Jolly Rudolph Christmas Cookies. Easy to make by the recipe or have fun customising decorations with the kids!
Cook

time
15 min
(plus standing time)
Nutritional information per serving
INGREDIENTS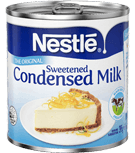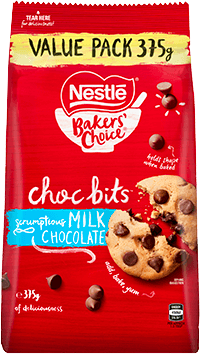 METHOD
Preheat oven 180°C/ 160°C fan forced. Grease and line 2-3 baking trays with baking paper.

Using an electric mixer, beat butter, sugar and NESTLÉ Sweetened Condensed Milk on high speed until pale and creamy. Reduce speed to low, add flour, baking powder and vanilla essence; mix until the dough just comes together.

Using a wooden spoon, stir in NESTLÉ BAKERS' CHOICE Milk CHOC BITS. Roll level tablespoons of mixture into balls, place on prepared trays; using fingertips gently flatten. Arrange extra NESTLÉ BAKERS' CHOICE Milk CHOC BITS to make Rudolph's eyes and pretzel shapes to make antlers.

Bake 15 minutes. Remove from oven and gently press in ALLEN'S JAFFAS whist cookies are still warm and soft, to form Rudolph's nose.
TIP:
Left over Sweetened Condensed Milk is great for making yummy hot choc! Simply place remaining condensed milk, 1/4 cup cocoa powder and 1 tsp vanilla essence in a saucepan on low heat; stir until combined then gradually stir in 2 cups of milk; heat through and enjoy!
Rate this recipe out of 5: